10.21.18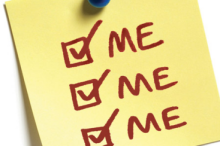 Category: Sunday Morning Sermon
Speaker: Rev. Dr. Steven E. Albertin
"WHAT'S IN IT FOR ME?"
Mark 10:35-45
Pent 22 B Lectionary 29
October 21, 2018
Christ Lutheran Church
Zionsville, Indiana
Rev. Dr. Steven E. Albertin
Many years ago I worked my way through school as a waiter in a restaurant. It was a fancy restaurant. The prices were high. If you worked hard and did your job well, you had a great opportunity to get great tips and make lots of money. You wanted your customer to believe that you really meant it when you asked, "What can I do for you." However, the truth was something else. You cared more about "What's in it for me?" than what you could do for him.
I was never pleased with myself when I acted like that. It seemed so cynical and hypocritical. I am sure that many of you have felt the same way about things that you have done. Caught between a rock and a hard place, you feel that you should care for others. Yet, if you did not look out for yourself, you could quickly become lost in the shuffle.
Then there are Jesus' troubling words in today's Gospel. They criticize our selfish impulses and remind us that whoever wishes to become great must first be a servant and slave of others. Instead of always asking "What's in it for me?" Jesus wants us to ask our families, friends, neighbors and customers, "What can I do for you?"
Jesus' disciples in today's Gospel are right there with us. They too cannot help but ask Jesus, "What's in it for me?" Jesus may have invited them to serve others, but they know what the bottom line is. They know what really matters. They want their places of glory. They want the best seats in the house. They want a place at the front of the line.
They seem so shameless. "Teacher, we want you to grant us to sit, one at your right hand, and one at your left, in your glory." In other words, "we are willing to put up with following you night and day all over the countryside, if in the end there is something in it for us."
We may scorn their selfish ambition. However, are we any different? We go "church shopping" to find the one that best serves our needs and gives us what we think will make us "happy." If I could have a dime for every time people have asked me questions like these, I would be a rich man: "Pastor, tell me what I need to do . . . to save my kids, to save my job, to save my marriage, to save my health, to save my life." They are sure that if I only gave them clear instructions, an easy to follow program, the divinely inspired plan for success and prosperity, they could do it.
I too am not immune from the same shameful self-promotion. I too am convinced that I can do what it takes to make it to the front of the line and have people like me. However, then Jesus says, "You don't know what you are asking for."
Do we really think that we can bargain with Jesus? Do we really think that life is all about What's in it for me? When Jesus says, "Whoever wishes to become great among us must be your servant and whoever wishes to be first among you must be slave of all," Jesus is not offering us another scheme to get ahead. This is not about "What's in it for me?" This is not like being a waiter in a restaurant where you pretend to care about your customers when you are actually only in it for the tips.
Jesus is willing to play along with us. If we really want to make this a deal, then do this: "Drink the cup that I drink and be baptized with the baptism with which I am baptized."
"To drink the cup" is a colloquialism, a manner of speaking, used in that world to describe what it is like to accept your fate. To drink one's cup is to accept the inevitable. What was Jesus' inevitable fate? Death. Three times in the Gospel of Mark Jesus spoke openly of this fate. The disciples never get it .
In the same way Jesus spoke of his "baptism." It meant much more than being sprinkled with water or dipped in a pond. Baptism was something far more dramatic. It was nothing like washing your hands or taking a bath. To be baptized was to be submerged, overwhelmed and drowned in water.
When the disciples asked "What's in it for me?" what they really meant was "Jesus, what must we do to get a place of power and privilege?" When Jesus answered that they must "drink the cup" and be "baptized with his baptism," he meant that they would die.
And we like the disciples naively respond, "Oh, sure! We are able! Sign us up. This is a piece of cake. We can't wait . . ." until reality hits us in the face, until we see the implications of being a servant, until we see the cup we must drink. Then we want to run away.
Surely, Jesus cannot actually mean that. Surely we do not need give up treasured ambitions and precious values to be a servant. Surely we do not need to talk to someone we dislike. Surely, we do not need to pray for our enemies (who could defeat us). Surely, we do not need to sacrifice for our neighbors (who could lower property values) Surely, we do not need to care for our coworkers (who could take our job). Surely we do not need to be considerate of our rivals (who could put us out of business). Surely, we do not actually need to take time out of our busy schedules to pray with our children, to speak with them about our faith and waste time listening to their petty problems and trivial worries. Surely, this could not be what Jesus had in mind when calls us to be a servant, to drink his cup and undergo his baptism.
No human being is willing to make such sacrifices without the promise of getting something in return. I have never met someone who does not ask, "What's in it for me?"
Except for one! Except for the one who said, "I came not to be served but to serve and give my life as a ransom for many." Watch him. He is the consummate servant. He gives his life away in the service of others. "What's in it for me?" does not even cross his mind. He chooses to be a friend of losers, derelicts and outcasts who can give him nothing in return.
He keeps on giving all the way to the cross. His critics laugh and ridicule him. Pointing to the cross, they snicker, "This is what happens to fools that do not look out for themselves." When you never pay attention to "What's in it for me?" you get baptized in a flood of hostility and drowned in a torrent of indifference by a world that could care less about you. You end up drinking the cup of death and in the grave, six feet under, forgotten, forever. As Jesus hung there dying on the cross, that sure seemed to be the case. If you are not concerned with "What's in it for me?" no one else will care either, not even God.
But . . . three days later the applecart was upset. Life was not what it appeared to be. God raised Jesus from the dead. God said "Yes!" to everything Jesus said and did. We do not have to live life as if "What's in it for me?" is all that matters. We do not have to always be filling our wallets and building our resume. We are not doomed to drink the cup of death and get drowned in world where nothing lasts. In spite of appearances to the contrary, we can trust Jesus and his promise: God truly is gracious and merciful, slow to anger and abounding in steadfast love, even to selfish, "What's-in-it-for-me" narcissists like us. Because Jesus lives, all of us phony and hypocritical servants . . . who only pretend that we care about someone else, who are more interested in "What's in it for me?" than "What can I do for you?" . . . are forgiven!
Jesus speaks of that marvelous reversal of fortune at the end of today's Gospel. He promises that his impending death in Jerusalem will not be a senseless tragedy but a "ransom for many." A "ransom" is what you pay the jailer to set a prisoner free. Jesus promises that his coming death will be his "ransom," his sacrifice, for us. He will set us free from our obsession with ourselves. He sets us free from God's criticism of our selfishness. Jesus exchanges his freedom for our bondage. As Martin Luther once described it, Jesus was God's "sweet swap," God's "happy exchange" . . . for us. Jesus exchanges his fate for ours. Jesus offers us his life and freedom. In exchange, we give him our bondage to our deadly obsession with ourselves.
What a "sweet swap" it is!
The obsession with survival and getting ahead enslaves James and John, all of Jesus' disciples . . . and even us. We cannot stop asking, "What's in it for me?" We plot and plan to earn our places of privilege beside Jesus. But Jesus has "ransomed" us. Jesus has offered us a way out. We can die to our old ways. Our old life was drowned waters of Baptism. God has raised us to new life with Jesus. We did not have to earn it, deserve it or merit it. With the best seats in the house, we get to sit at Jesus' right and left hand. We get to feast at his table.
We no longer always have to be on the make. We do not always have to cover our bases. We get to forget about ourselves. Instead of asking, "What's in it for me?" we ask, "What can I do for you?" Instead of always looking to be served, we get to serve the new neighbor. We get to talk to that lonely kid sitting alone in the back of the lunchroom, because no one thinks he is cool enough.
We greet a visitor at Sunday worship actually taking time to introduce ourselves instead of fretting about what we can do to get them to join our church. We choose to help a neighbor, assist a coworker, greet a stranger, warn someone in danger, give of our precious time to volunteer, take time to listen instead of judge, forgive instead of begrudge, all without regard for our bottom line or "What's in it for me?"
Because Jesus has turned "What's in it for me?" into "What can I do for you?"