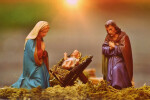 Since we've had to pivot from our initial Christmas Eve plans, we are excited to announce take 2! This year, we will host two brief 30-minute services in the church parking lot on Christmas Eve: 5pm & 6pm. Park in the front lot, stay in your vehicle for the service, and tune in on your car radio. Worship will be abbreviated and include carols, the Gospel reading, communion, and lighting of luminaries.
At the conclusion of the service, you will be invited to stand outside your vehicle, light your luminary, and sing "Silent Night." We ask that you wear a mask for this portion of the service. RSVPs are required for these services so we don't run out of space in the parking lot!
RSVP for 5pm Parking Lot Service
RSVP for 6pm Parking Lot Service
To help with the luminaries, you can stop by church starting December 13 to pick up a luminary bag to decorate. There will be a box outside the front door of the church for pickup. Take as many as you'd like to decorate and bring your bag(s) to Christmas Eve service. Following the service, you can place your luminary along the perimeter of our lot for our community to enjoy.
Following these services, we will also have a more traditional Christmas Eve service on our Facebook livestream at 7pm. This will be viewable at 7pm and also the rest of the evening for you to replay.
We look forward to sharing the joy of Christmas with you and your family.
For the bulletins for these services, click here.