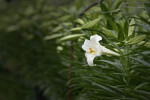 For a printable version of this page, click here.
On the Wednesdays of Lent, at 7pm, we will gather by candlelight in the sanctuary around the font and cross to worship, sing and pray. We will begin Ash Wednesday with the traditional imposition of ashes and the celebration of Holy Communion. On the remaining Wednesdays of Lent, we use the Service of Evening Prayer. Reflection & Healing is the theme of the Wednesdays in Lent this year. A soup & salad/sandwich dinner will be offered beginning at 6pm with worship to follow at 7pm. For those who wish to participate, a brief order of healing (ELW p.276) will be offered after worship.
Mid-Week Services

March 6, Ash Wednesday
Matthew 6:1-6, 16-21
March 13
Luke 4:1-13
March 20
Luke 13:31-35
March 27
Luke 13:1-9
April 3
Luke 15:1-3, 11b-32
April 10
John 12:1-8
Holy Week

April 14 Palm/Passion Sunday
8:15 & 10:30am : Traditional Procession with Palms, dramatic reading of the Passion according to Luke, and celebration of Holy Communion.
9:15-10:15am : "The Triumphal Entry": Retelling the story of Jesus' triumphant entry into Jerusalem on that first Palm Sunday. For all ages.
April 18 Maundy Thursday
7:00pm: Holy Communion and The Stripping of the Altar.
April 19 Good Friday
6:00pm: Community Good Friday Service, hosted by Zionsville United Methodist, sponsored by the Zionsville Area Ministerial Association.
7:00pm: Tenebrae/Service of Darkness. "The Seven Last Words From The Cross"
April 20 Holy Saturday
10:00am Easter Egg Hunt—FREE
April 21 Easter—The Resurrection of Our Lord
8:15 & 10:30am Celebration of the Resurrection of Our Lord with Holy Communion.