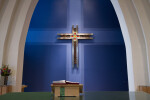 Christ Lutheran Church will cautiously restart Sunday morning in-sanctuary services July 12th at 10:30am with a non-Eucharistic (no communion) service. RSVPs required by the Friday prior to the service (see below for link). Space is limited to 50 people in order to ensure social distancing. At the continued recommendation of the Synod, the American Choral Directors Association (ACDA) and the National Association of Teachers of Singing (NATS), we will not be singing together. Considerations about caring for your Brother and Sister while attending are:
Only attend if healthy and well.
Wear face coverings while you are in the building.
Do not linger in the inside common areas on the way in or after the service (conversation should be deferred to outside where appropriate distance can be maintained).
Sit distanced from other family groups by keeping 4 chairs between groups in a row, with rows already being placed 6 ft apart.
When you enter a row, go to the outside most seat so that no one need to cross in front of you to get to a seat.
Follow ushers directions as to dismissal.
Place offerings in the respective containers in the narthex area.
Abstain from shaking hands, a simple nod will do.
Bulletins will continue to be electronic and can be pulled up on your smartphone. Bulletin links can be found here.
Read more information about returning to in-sanctuary services here.