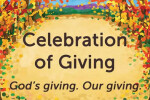 In response to God's generosity, that we experience in everything from the bounty of creation to forgiveness in Christ, the month of November provides us with a variety of opportunities to extend that generosity to the world around us. See the display in the narthex for details. You can give:
Ingredients for pumpkin pies for The Caring Center (due Nov. 16)
60 cans of pie filling, 40 cans of evaporated milk, monetary donations for purchase of sugar, eggs and spices (and pie boxes).
Blood to the Indiana Blood Center (Nov. 18, 8am-1pm)
Sign up online now or see Barb Starkey! https://www.donorpoint.org/donor/schedules/drive_schedule/120685
Giving Tree gifts for LCFS Christmas Store (tree will be up Nov. 18)