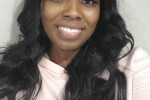 Pastor is excited to announce that Christ Lutheran Church has a brand-new Director of Children and Family Ministry (DCFM)!
Ciara Jones received a master's in public administration and Public Policy and Law from Liberty University, a minor in Theology, and a Bachelor of Science in Sociology and Counseling Psychology from Ball State University. At a young age, she managed youth groups across various denominations and began evangelism in the pulpit at twenty. Her commitment to the youth and engaging families has assisted ministries by expanding programming, creating outreach programs, and aiding low-income families with resources. She is currently an ELA teacher at an inner-city school and enjoys teaching, motivating, and encouraging the youth of all ages. Her superpower is unlocking the confidence in children to be radical for Christ and uncovering their spiritual gifts to use for the Kingdom of God.
Ciara's first Sunday will be August 15th and on September 5th you're invited to bring your family and children to our annual church picnic to welcome Ciara into the Christ Lutheran Church family.