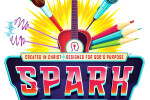 VBS is back this summer!!!!
When: June 27-July 1
Times: 9:00AM-12PM daily
Cost: $25 per child, up to $60 per family. *Please note, this includes immediate family only.
Campers Age: 3 (and potty trained) through 4th grade (Fall 2022)
Questions: Contact Ciara Jones at
** Please register all children prior to May 15 to ensure program readiness.
Registration is open now! https://vbspro.events/p/events/clczionsvillevbs2022
In summer 2022, kids will learn that God's creativity didn't stop in Genesis. The Master Artist is working to redeem, reclaim, and transform us–His creation–to the design He planned for us. Kids will see the beautiful truth that they are God's workmanship as they learn to use their talents to bring glory to Him. Please join us this summer to make crafts, sing worship songs, play games, and meet new friends!