This is a fluid and evolving situation and we will answer questions as they arise on this page. Please check back for more info. If you have a question, please email
(Q) When can we return to church?
Click here to view the image in full screen.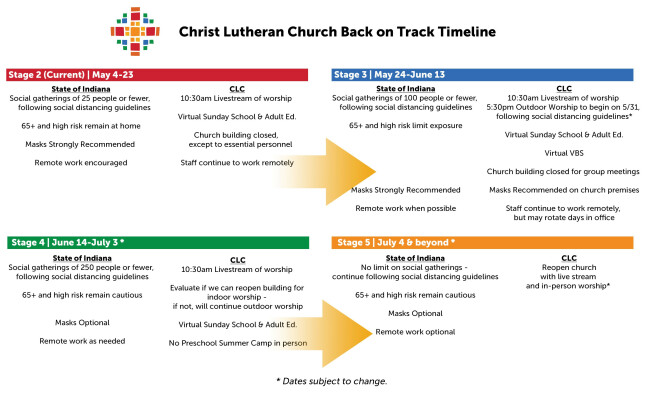 (Q) How can I help those who are in need of assistance?
(A) Read this document which establishes a fund to provide emergency assistance to members of CLC and those affiliated with our church. Simply put, we need your help of contributions to make this emergency fund a reality.
If you feel so moved, please send checks, with "Emergency Fund" on the memo line, to the church office. An application for assistance can be obtained by contacting Pastor Wes ( ).
(Q) How can I get financial assistance?
(A) We are accepting applications for assistance now. Individuals who meet the following criteria can apply:
Members of CLC or affiliated with the mission of CLC
Require assistance for short term needs such as medicine, food, emergency car or home repair
It is anticipated that the maximum grant will be no more than $500 and would not be available more frequently than quarterly, although exceptional circumstances would be considered as funds are available. Exceptions to these criteria may be made on a case by case basis.
A request for funds is made by completion of a short written application, either by the applicant or by the Pastor as part of the request process. The application is available here.