Day One: God Rescues Noah

Welcome to day one of Rainforest Explorers VBS! We're glad you're here. Use the outline below to guide you through the day one lesson. Don't forget to send in a Flipgrid video of your child(ren) doing any of the activities!
Opening

Join us for a live opening through Zoom at 9 am (link is in your daily email)
Recording of Opening:
Bible Story
God Rescues Noah (Genesis 6:17–22; 8)
Memory Verse
How precious is Your steadfast love, O God! Psalm 36:7
Take-Home Point
God keeps His promises.
Theme Song
Storytelling
Activities
Snack: Ark Rescue Yogurt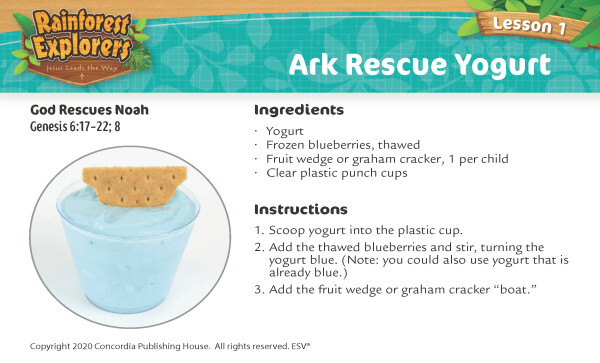 Craft: God Rescues Us Ark (included in VBS To Go)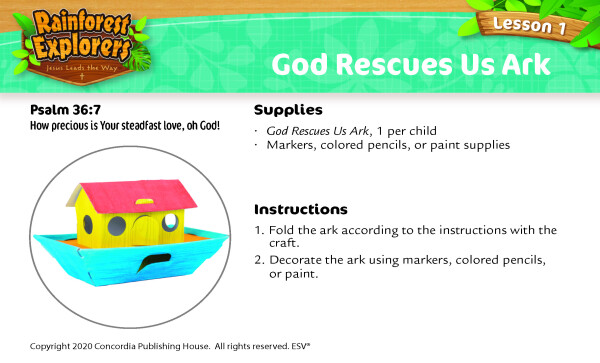 Coloring Page: Noah's Ark Coloring Page (included in VBS To Go)
Games
Rainforest Matching (included in VBS To Go)
Materials: Provided
How to play:
Layout cards faced down

Each player will take turns drawing two cards to find a match

Players keep any matches they collect

The player with the most pairs at the end win

Noah's Ark Animal Drop
Materials: cup and plastic animals
How to play
Put the cup near your feet

Stand up straight and hold the animal to your nose

Drop the animal from your nose trying to get it into the cup

The team that gets the most animals in their jar after a minute wins

Discussion Questions
Why did Noah and his family need to build an ark?

Do you think it was hard for Noah to trust God to save him and his family during the flood? Why?

Noah didn't know where he was going. Is it ever hard to trust God because you couldn't see him?

God promises Noah that He would keep Noah and his family safe. What does God promise you?
Closing