Day Four: Jesus Heals Ten Lepers
Welcome to day four of Rainforest Explorers VBS! We're glad you're here. Use the outline below to guide you through the fourth lesson. Don't forget to send in a Flipgrid video of your child(ren) doing any of the activities!
Opening
Join us for a live opening through Zoom at 9 am (link is in your daily email)
Recording of live opening:
Bible Story
Jesus Heals Ten Lepers (Luke 17:11–19)
Memory Verse
But we have this treasure in jars of clay, to show that the surpassing power belongs to God and not to us. 2 Corinthians 4:7
Take home Point
Jesus is full of healing.
Theme Song
Storytelling
Activities
Snack: Healing Bandage Treats
Craft: Jesus Heals Lacing Cross (Included in VBS To Go)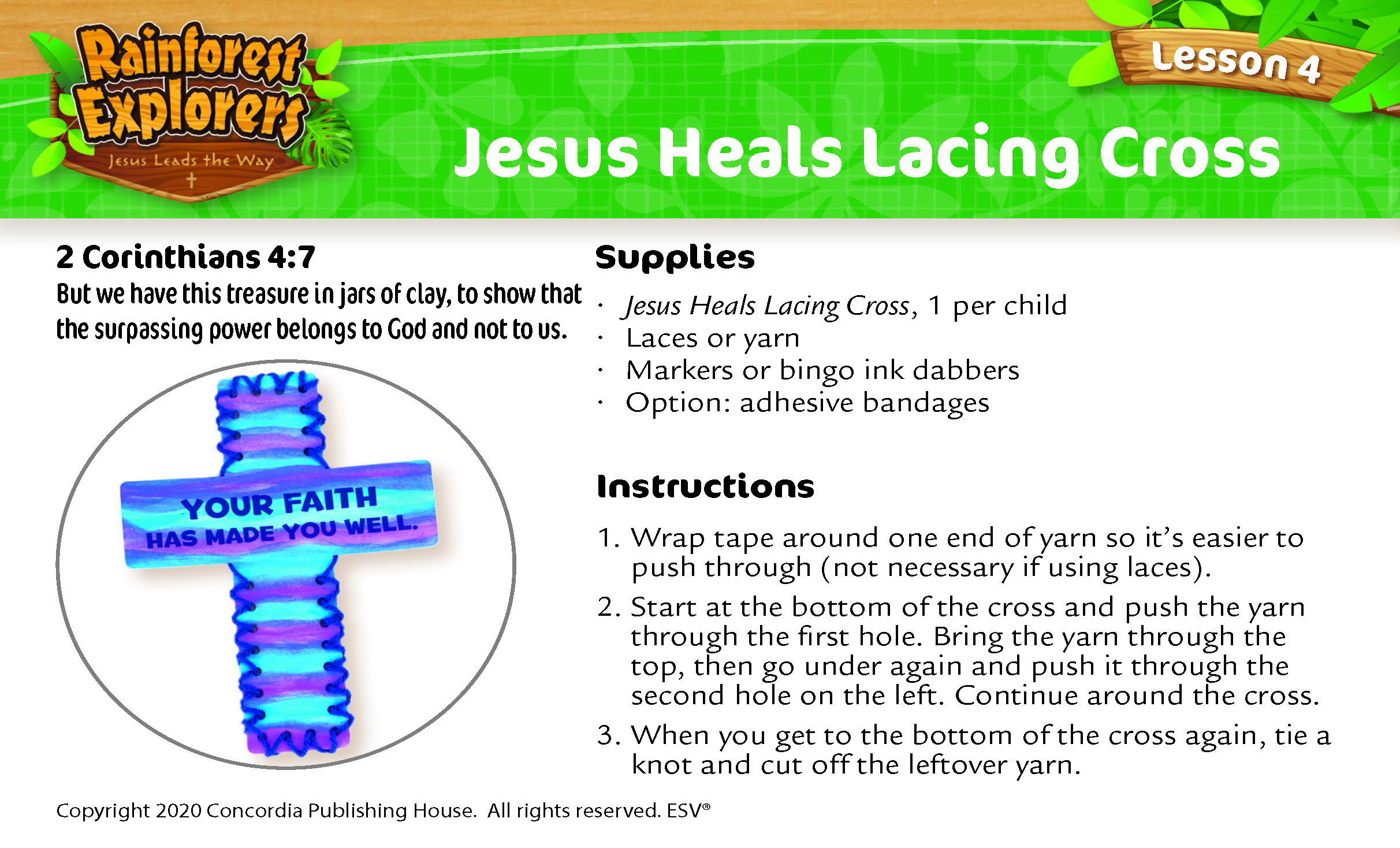 Coloring Page: Jesus Heals Ten Lepers (Included in VBS To Go)
Games
Animal Charades
Materials
How to play
Put the animal cards into a pile

One player will pick out a card and act like the animal on the card

The other players will guess which animal they are acting like

The player that guesses correctly gets to be the next actor
Bandage Tag
Materials:
Adhesive Bandages (can be played with anything that attached to a shirt or waist)
How to Play
Put an adhesive bandage on the back of every player

When the game starts, kids will try to pull off everyone else's bandage without their being pulled. They cannot grab people or shirts, only the bandages.

Once a kid's bandage is pulled, they can continue to try removing other kids' bandages.

The last person with a bandage on their back is the winner
Discussion Questions
What did you need to heal an injury you had?

Our bodies get injured all the time. Did you know that our souls can get injured too? What hurts our souls the most?

Jesus had God's power to heal people's bodies and souls. How did He heal the men in our Bible story today?

How does Jesus heal us from our sin?

Closing