Day Five: Jesus Visits His Disciples
Welcome to day five of Rainforest Explorers VBS! We're glad you're here. Use the outline below to guide you through the last lesson. Don't forget to send in a Flipgrid video of your child(ren) doing any of the activities!
Opening
Join us for a live opening through Zoom at 9 am (link is in your daily email)
Recording of live opening:
Bible Story
Jesus Visits His Disciples (John 21:1–14)
Memory Verse
But lay up for yourselves treasures in heaven. Matthew 6:20
Take Home Point
Jesus helps me share His Good News.
Theme Song
Storytelling
Activities
Snack: Fluffy Sheep Cookie
Craft: Jesus Fish Sand Art (Included in VBS To Go)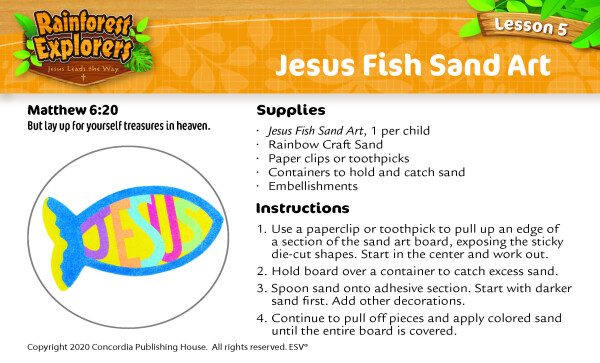 Coloring Page: Jesus Visits His Disciples (included in VBS To Go)
Games
Nature Scavenger hunt
Materials:
How to play
Grab a marker and go an adventure

Mark the items you find in nature

Make sure you stop and thank God for his wonderful creation
Rainforest Falls
Materials:
Bucket filled with water, Clean and empty water bottle, Empty Bucket (can be played with cups if buckets are not available)
How to PLay
Let kids take turns seeing how quickly they can fill the bucket with water.

Mark a line on the bucket with masking tape.

Kids will fill their bottle with the water and then pour out the water from the bottle, standing straight over the bucket.
Discussion
God loves and cares for us! He pours blessings into our lives!

Closing