Lent begins with Ash Wednesday on February 17. See the image below for details, or click here for the full size image that you can print or save to your phone.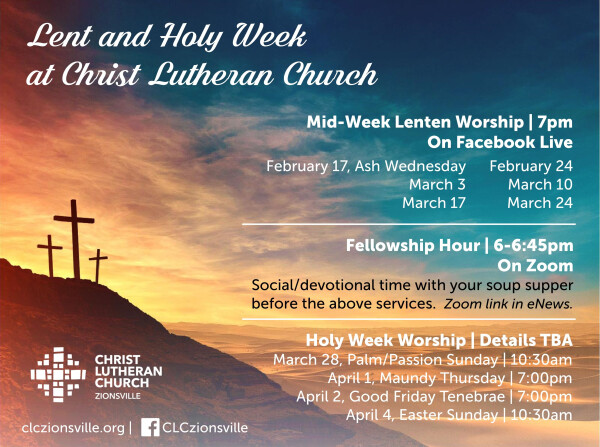 In addition to Facebook Livestream Ash Wednesday worship, we will also have Ashes To Go in the parking lot on Ash Wednesday, 1-2pm and 5-6pm. You can drive through the front parking lot to receive ashes and a blessing from Pastor Wes. We thank you for wearing your mask on church property.
We have a beautiful Lenten devotional available this year. You can download and print at home or printed copies will be available in a box outside the church front entrance, starting the week of February 7.
In the same box outside church (starting 2/7), you can pick up individual ash cups to be used during our Ash Wednesday livestream.
We will hold a social/devotional time via Zoom, 6-6:45pm on the Lenten Wednesdays as well. Join with your soup supper! Zoom link will be in our eNews.