Day Three: Jesus Calls His Disciples
Welcome to day three of Rainforest Explorers VBS! We're glad you're here. Use the outline below to guide you through the third lesson. Don't forget to send in a Flipgrid video of your child(ren) doing any of the activities!
Opening
Join us for a live opening through Zoom at 9 am (link is in your daily email)
Recording of opening:
Bible Story
Jesus Calls His Disciples (Matthew 4:18–22; 9:9–13)
Memory Verse
You will have treasure in heaven; and come, follow Me. Matthew 19:21
Take home Point
Jesus is with me.
Theme Song
Storytelling
Activities
Snack: Fishing Net Snacks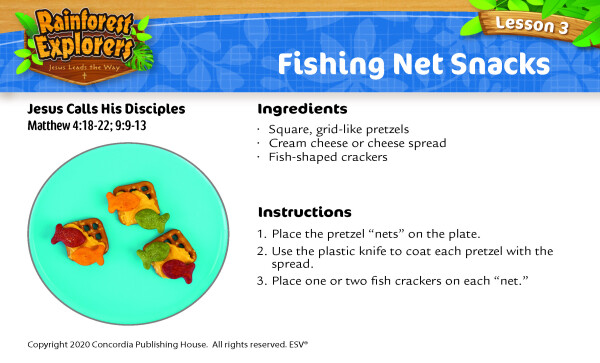 Craft: Jesus Is Our Treasure Cross (included in VBS To Go)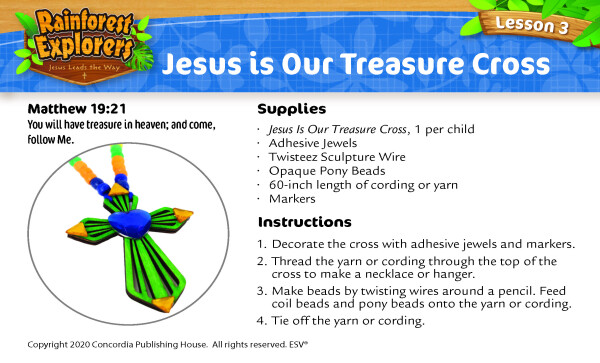 Coloring Page: Jesus Calls His Disciples (included in VBS To Go)
Games
Lily Pad Hop
Materials
How to play
Layout the lily pads in any arrangement you want

Jump across them

Alternative ways to play:

Hop on one leg

Great an obstacle course using the lily pads

Add motions to each lily pad

Add more space between the lily pads

Create two-course and turn it into a relay race
Move the Fish
Materials
Straw, Two plates per player, Goldfish (Can be played with only one person going at a time if more supplies are not available)
How to play
Each player will need a straw and a handful of goldfish on a plate

Players will transfer one goldfish cracker at a time from one plate to the other by sucking it up by a straw

The player that gets the most goldfish on the other plate at the end of one-minute wins
Yoga with lara blastick
Many thanks to Lara for providing us with this video class! You can find out more about her here: https://www.mindfulmovers.org/about or find her on Instagram at indyyogastudio.
Closing